4th January On BBC1 – Our Franchisees Supporting DIY SOS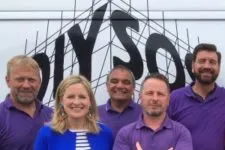 Two of our franchisees – Carla Bristol in Worthing and Velda Fairclough in Hove – have been involved in an exciting and inspiring project with the BBC, helping a very deserving local family.
Hosted by Nick Knowles, the award-winning DIY SOS: The Big Build is the BBC's flagship home renovation programme. In an episode to be aired being aired on the 4th January on BBC1 at 8:00pm, a family from Yapton, near Arundel have their home transformed with the help of tradespeople from Sussex, which include our Bright & Beautiful teams.
DIY SOS is transforming the home of mother of four Amanda who was training on her pushbike for an iron-man when her brakes failed and she suffered horrendous injuries in a crash that broke 11 of her bones, punctured a lung, and snapped her collar bone and her back.
On arrival at A&E Amanda was informed that she had been left paralysed and spent the next six months at Stoke Mandeville spinal unit. Finally, after two gruelling 12 hour back operations, she returned home in a wheel chair to her family she so desperately missed, but her home was now unsuitable and so that is where the DIY SOS volunteers came to the families rescue.
Preparing the house for the return of a very deserving family
The house needed to be made wheelchair friendly with an adapted kitchen, wet room, bedroom, ramp into the garden and widening of door-ways throughout. Once the construction and decoration work was completed, the professional housekeepers of Bright & Beautiful in Worthing and Hove went in to immaculately clean and beautifully dress up the house ready for the family's return.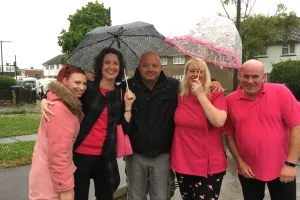 Carla says: "Yapton is just up the road from us so when I heard about the appeal I immediately contacted them to offer our cleaning and dressing services. We then met the team who invited us in to help complete the final stages of presenting the home, ready for Amanda to come home to."
Velda says: "When we arrived on site to start our cleaning up and helping to dress the rooms, it was amazing to see how the other teams had completely transformed the house. The paint was still wet on the walls, the carpets covered in plastic but time was of the essence so we polished tiles, hung curtains, made beds, hand wiped floors and generally helped put the sparkle into the home that was beautifully created in just nine days."
Along with the many other local tradespeople, suppliers and hundreds of other people who had donated their time and expertise to help, Carla and Velda and their teams of housekeepers were privileged to be invited back to meet the family and celebrate a job well-done with the team.
With the big reveal of the project due to take place when the show airs later this year, we can't tell you too much about the transformation that had taken place, or the family's reaction. But, true to form, it was an incredibly emotional moment and one that our Bright & Beautiful teams have been hugely proud to have been a part of.