Care For Your Christmas Tree With These 5 Tips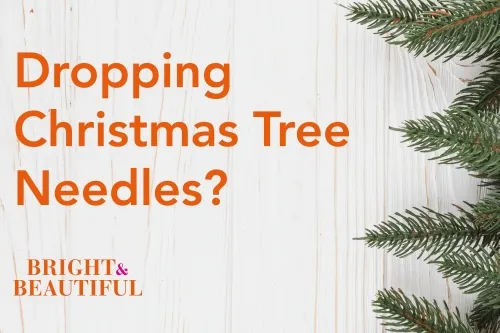 Where do you stand in the annual Christmas tree debate – real or fake? According to Admiral, if you answered real then you're in the minority with only 26% of Brits choosing evergreen.
So why are nearly three quarters of the population choosing artificial? From personal experience, having more pine needles in my vacuum than on the tree did it for me!
If you love your real Christmas tree but hate having to constantly hoover up fallen needles, we've got the perfect gift for you.
As a Christmas treat, and to keep the festive tradition alive, we're sharing our top tips for stopping your Christmas tree needles from dropping, so you can keep your sanity and your lovely fresh tree.
Pick the perfect tree
The key to preventing needles from coating your carpet is to choose a well-hydrated tree.
When purchasing your tree, lift the tree by the trunk (making sure to wear gloves). A heavy tree will indicate that the tree is retaining water, therefore hydrated and healthy.
Another tip to test the freshness of your Christmas tree is to carefully bang the stump of the tree against the floor and see how many needles fall. Steer clear of any trees that immediately shed a lot of needles or you'll almost certainly be left with a twig rather than a tree come Christmas Day.
Trim the stump
Now that you've found the perfect tree, make sure to saw off a couple of centimetres from the bottom of the stump.
After several hours of being cut, tree sap can seal up tree pores, preventing the tree from both losing water and absorbing any more water. To combat this, cut off an inch off the stump and quickly place the tree stump in a bucket of water to allow the tree to absorb as much water as possible.
Hydrate feel great!
Following on from our previous tip, make sure your tree is regularly watered to ensure it is left healthy and hydrated.
Christmas trees can guzzle up more than 1000ml every day in the first week they have been cut, so make sure you are attentive with how much you're feeding your tree.
Keep your water reservoir topped up in the container which your tree sits in. If you're keeping your tree in soil, make sure the soil is kept damp without flooding the soil.
Keep the tree away from heat
Nothing warms our hearts like the image of a beautifully decorated Christmas tree next to a cosy fireplace. Sadly, nothing kills a Christmas tree quicker.
Heat will inevitably dry out a Christmas tree which in turn will cause needles to drop. To avoid this, keep your tree away from heat sources such as radiators or fireplaces.
Ideally, you should keep your Christmas tree somewhere cooler. As the days get shorter and colder, a window may be your best option.
Hairspray is for hair
While spraying your tree with hairspray is effective at preventing needle loss, you do so at the risk of increasing chances of fire since hairspray is highly flammable. This is particularly dangerous when trees are surrounded by hot lights and other potential heat sources.
Not to mention that hairspray is toxic, meaning you'll be polluting the environment when it comes to eventually disposing of your Christmas tree.