Two Festive Trends We Expect To See In Our Clients' Homes This Christmas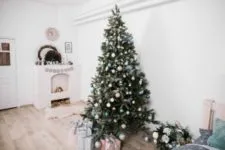 Christmas Trees Trends in 2017
While an eager few may have already welcomed a Christmas tree into our homes, most of us will be thinking about what type and when to buy ours from early December
Keeping it traditional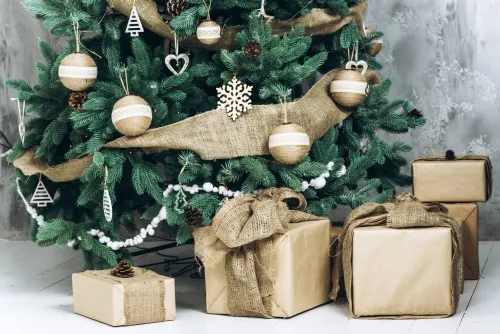 If you're planning on a traditional real tree there are a few things to think about – such as what type to buy and how you and your tree can be more eco-friendly.
Whatever your choice, most types of real trees should last around four weeks – especially if you put it in water as soon as you get it home, water it every day, keep it away from heat sources like radiators and fires and turn your Christmas lights off each night.
We love the advice from Moral Fibres which includes buying a potted tree, renting a tree and making sure you dispose of it using a recycling chipping scheme.
Artifical trees are improving every year
After years of being considered unutterably naff, the quality of artificial trees has improved enormously and as they they can be used over several years, it could be argued they can be kinder to the environment.
There are some beautiful ones on the market now – many with the advantage of being pre-lit to cut out the annual 'hunt for the busted bulb'. No longer are we constricted to the traditional green, from subtle snow dusted branches to bright pink or black, we can co-ordinate or clash with any room in the house.
Artifical trees also come in a variety of shapes and sizes – from this year's vogue for upside down trees to the flatback version that sits against a wall to save space.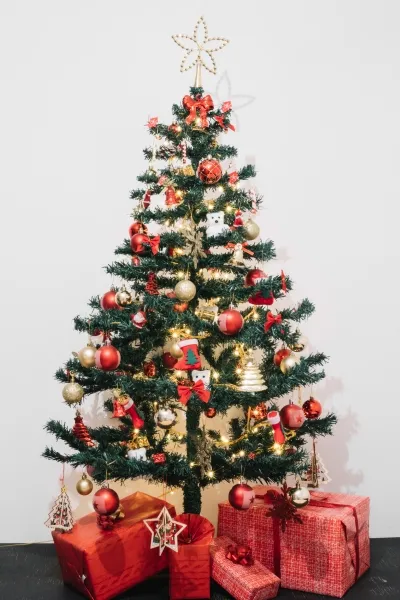 Getting creative with tree design
One of our favourite trends is the wave of alternative and creative Christmas trees of all shapes and sizes. We've seen designs constructed using beer cans, books or balloons and even replacing the tree altogether with a ladder!
A couple of our favourites include the colour in Christmas tree poster that gives children the opportunity to run riot with their decorative ideas (conveniently leaving you to finish decorating the tasteful real tree) and beautiful creations constructed using pages from vintage books
Whatever your personal choice this year, there's certainly plenty of inspiration on offer to fit your taste, your budget and your style.
Christmas Decorations Trends in 2017
December gives us all a great opportunity to transform our homes into an entirely different environment, using Christmas decorations as a celebration and an extension of our taste and style.
We love spotting the new trends for Christmas decor that emerge each year as well as enjoying the more traditional themes that just seem to sum up Christmas. Here are a few of our favourite picks for this year:
Cool and quirky
We're seeing lots of unusual pieces being incorporated into Christmas decorations this year, many of them influenced by key interiors and accessories trends from throughout the year. These include pineapples – either real and sprayed gold or silver to match a colour scheme or ceramic; velvet touches; succulents and of course this year's ubiquitous unicorns!
Organic and natural
We're huge fans of natural products here at Bright & Beautiful, so we're looking forward to seeing more homemade and eco decorations this year – as well as being able to use twigs, fruit, pine cones and branches for decorating and wrapping presents to really bring the outside in.
White on white
Our love of all things Scandinavian shows no sign of abating and we're seeing this in the trend for using all white decorations, both on the tree – white lights, baubles and crystals – and throughout the house, with white rugs, piles of cushions and blankets being used around the home to create that cosy, wintry feeling.
Metallics
Rose gold and copper seem to have been everywhere this year – from phones to Nigella's highly covetable copper Kitchen Aid mixer. And the trend for metal tones continues into Christmas with the shops really going big on metallic baubles, balloons, tinsel and other accessories, perfect for bringing a touch of glamour and glitz to the season.
Whatever your personal choice for Christmas decorations, we hope you all enjoy a wonderful festive season. And you know where we are if you need a hand with the cleaning up after they're all put away for another year!