From Dagenham To The Dorchester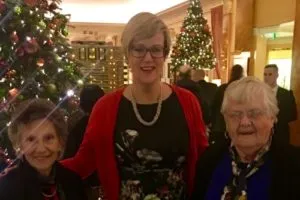 Now they do say that you should never meet your heroes but in December I was lucky enough to meet two of my all-time heroines and I have to say they more than lived up to their reputation.
Bright & Beautiful was shortlisted in the 2016 NatWest Everywoman awards so I found myself at The Dorchester in the company of my 21 fellow women finalists in what is billed as the UK's most prestigious event celebrating the achievements of women business owners.
We were judged by some of the country's most successful businesswomen including Chrissie Rucker MBE who founded The White Company, Cath Kidston MBE, Julia Hands MBE and Amanda Wakeley OBE.
But as successful and inspiring as all our judges undoubtedly are, I found myself drawn to, and most impressed by, two very elegant ladies in their 80s who literally brought the room to its feet when they were introduced.
Eileen Pullen and Gwen Davis were two veterans of the Ford Motors Dagenham dispute, whose pioneering fight for equal pay triggered a revolution in the Ford factory and triggered the passing of the Equal Pay Act of 1970.
In 2010 Gwen and Eileen's story was immortalised in the Made in Dagenham feature film. I've always loved this film, as much for the camaraderie and care that is so obvious between the women as for the history making changes it depicts.
For anyone who doesn't know their story you need to watch the film, pronto! But in a nutshell, the female machinists on the Ford production line had their work re-classified as 'unskilled'. This meant that they were earning far less than their male colleagues doing the same work and even less than the teenage boys sweeping the factory floor. Simply because they were women and the management thought they could get away with it.
But they had reckoned without the likes of Eileen and Gwen and they and 185 other Dagenham machinists led a walkout which took them to Westminster and to the Equal Pay Act in 1970.
Of course it wasn't just Ford that paid women less in the 1960s; most industries and businesses did. And today, nearly 50 years on, the fight for equal pay goes on in workplaces across the world.
Playing her part in this was another guest I met at the awards. Helene Reardon-Bond OBE is a senior civil servant who was responsible for writing the new Equal Pay legislation which has just been passed through parliament. The new law compels companies with over 250 employees to publish their gender pay gap, something that will hopefully start to address the fact that women's average full-time pay still is still nearly 10% less than men's.
But what did strike me, sat with these amazing women and in the company of hundreds of female entrepreneurs at the awards, was just how the landscape of business has been changed by our hard work and ambition.
Today this country is home to thousands of home based and small businesses that have been set up by women to help them to create a life and a career that they want, from housekeeping and the arts to manufacturing and professional services.
These are businesses that put food on the table, create jobs, fill valuable service and product gaps in the market as well as enabling women to build a life outside work without feeling guilty all the time.
So long may women like Eileen and Gwen continue to disrupt and disturb the status quo and here's to being part of the next generation of women who take risks, know what they want and won't do what they're told!