How 'Green' Is Your Gift Wrap?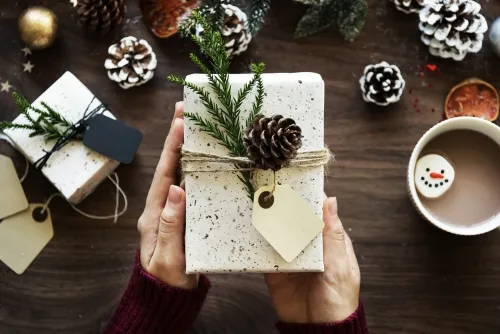 In her guest blog, our friend and freelance writer Laura Moore, provides practical advice on keeping Christmas wrapping green.
With the festive season upon us, most of us will have started to trawl through the shops picking up presents for our loved ones. What we might not have thought about yet is how to wrap these gifts.
While the easiest option is to pick up a few rolls of wrapping paper, this isn't the greenest or even most impressive option. Lots of wrapping paper isn't recyclable either, with plastic coating or glittery decoration making some destined for landfill. Us Brits throw away 226,800 MILES of gift wrap each Christmas – enough to wrap around the world nine times! Here are a few alternative solutions to cut back on waste this year:
1. Use What You Have
Since the introduction of the plastic bag charge, most upscale stores will now offer a paper or cardboard bag with your purchase. Keep them! If it isn't obvious what's inside, the addition of ribbon around the handles or a fabric bow on the front is more than enough to pretty it up. Some stores even change their branding over the festive period, meaning the bag you leave the store with is perfect as is.
2. Hamper Baskets
Wicker baskets can always be found at low cost in local charity stores or homeware shops. Pad the bottom with shredded newspaper to make the most of your recycling, and fill with carefully curated gifts. Beauty products or fancy food lend themselves well to this style of present, but with hampers, the only limit is your imagination (and budget!).
3. Practical Packages
Why not place your presents in a receptacle themed around the gift? If you have a green-fingered friend, place gloves, tools, twine and hand cream inside a watering can. For a keen baker, an apron, cookie cutters and a recipe book can be presented in a shaped baking tin. Tie a ribbon around the bundles and you have packaging that not only looks pretty, but has a practical use too.
4. Fabric Wrap
The Japanese Furoshiki wrapping fabric has been used for centuries, with this now being adopted as an eco-friendly alternative to wrapping paper. Patterned scarves work well here, with the added bonus of being an extra gift. You could try a twist on the above idea too, using muslin cloths to wrap make up or putting bath and beauty products inside a fluffy hand towel. If you're feeling particularly crafty, gift bags can be sewn from scraps of fabric you no longer need.
5. Reduce, Reuse, Recycle
If you still can't quite give up the traditional methods of wrapping presents in paper, try to recycle what you already have around the house. Old maps which have become obsolete make great wrapping paper, as do end rolls of wallpaper or the colour pages of newspapers. Save your children's artistic efforts and use these to wrap gifts – Nanna will love it. Still have last year's Christmas cards tucked in a drawer? Cut out your own gift tags from the pictures on the front.
As you can see, there are several alternatives to gift wrap this holiday season. These creative solutions aren't just kinder to the planet, they can keep young minds and hearts occupied for hours in the lead up to Christmas and depending on which route you choose – they'll make the post-present Christmas morning clean up a breeze too!