Top Tips To Get Your Home Looking Bright And Beautiful For Christmas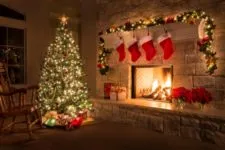 With Christmas just around the corner, the thought of getting your home ready for the festivities and overnight guests can be overwhelming, especially when you are already thinking about what present to buy for Aunty Mabel and what food to serve to your brother's vegan girlfriend.
One of the many things that my housekeeping team hears from our clients is how wonderful they feel coming home to their clean, tidy and beautiful smelling homes.
So, to help you to stay relaxed and to create a warm and welcoming environment for all your family and friends this festive season, I've created a cleaning countdown to Christmas for you to follow.
Mid December
Walk through your home with a visitor's eye to identify all the things that need cleaning, smartening up or fixing: make a list of any of these jobs.
Declutter. This is especially important if you have children as a tide of new toys and presents will be coming your way on Christmas morning. It's probably a good time to go through their current toys and donate some to charity. The same can also be said for other rooms throughout the house.
A week before Christmas:
Tackle the bigger jobs first, especially those that are unlikely to need to be done again before Christmas Day such as cleaning the windows, washing the skirting boards, washing and ironing bed linen for guest rooms, vacuuming the sofa, washing out the fridge to make way for party food etc.
Deep clean the bathroom; including the tops of cabinets and inside of cabinets, you'll be surprised how many guests will take a nosey!
Deep clean the kitchen, doing the jobs you don't tend to do on a daily basis such as washing cupboard fronts, fronts of appliances, inside the microwave and the bin.
Sort out the coat cupboard and store away items that are not worn very often in order to make way for guests coats.
Christmas Eve:
Time to do the jobs in the areas that you hope won't get too messy before the big day such as vacuuming and mopping floors, plumping up sofa cushions, giving the bathroom a quick once over and polishing mirrors.
Hang fresh hand towels and put out new hand soap in the toilets.
Christmas Day
Empty the bins and put in fresh bin bags.
Spot check bathrooms, kitchen, floors etc for any marks
Carry a laundry basket around your home and pick up clutter and either put the things back where they should be or just hide the basket!
Plump up the sofa cushions (again!)
Finally, as guests arrive, pour yourself a glass of bucks fizz, enjoy the day with family and friends and make sure someone else takes care of the washing up!